Best Meal Prep Lunch Bag Review (2021)
If you're taking the whole family out camping, it can be difficult to keep fresh food, especially as family meals need to be preserved, and we often have to rely on junk food to fill our bellies.

In reality, we don't have to do this. As long as we have a decent quality MEAL PERP lunch bag at the ready, we can solve our worries. You no longer need to waste a lot of money on junk food or order it from restaurants.
1. EDC Meal Prep Bag
The EDC Meal Prep Bag is an exclusive lunch bag from lunchboxuy, which looks small inside but can actually hold a family lunch. Compared to other bulky bags, this EDC Meal Prep Lunch Bags is a very good choice. It contains several compartments, including a top compartment, an insulated compartment and a side compartment.

The insulated compartment is for hot food, the side compartment is for water bottles, drinking glasses etc. and the top compartment is for small snacks and other items.

It is suitable for a family of three and can hold lunches for three people. This is a great option for those who don't want to carry a bulky lunch bag out and about.
2. ISO Meal Prep Bag
With six storage compartments, this bag is fully insulated to keep both drinks and food cold for up to 16 hours. The front of the bag is designed to accommodate the included food trays, which are stackable and recyclable. The top of the bag has an extra compartment for eating utensils but it is also large enough to store a full meal. The side of the bag has two insulated zipped pockets, as well as two mesh pockets designed for storing non-perishable food items.
And the after-sales service for this lunch bag is excellent, as long as the customer registers your purchase information on their official website, you will be covered by their lifetime warranty on the stitching and zips.

With this lunch bag, we can take the family out camping with confidence.
3. Prep Naturals Meal Prep Lunch Bag
This lunch bag is lined with thick PEVA, while the inside of the bag contains insulating and cooling material to help you retain the freshness of your food.

And the best thing about this bag is that he has added EPA foam. This foam allows the bag's insulation system to reach a higher level. It will be more friendly for families who like to pack hot food.

The tray that comes with the bag is FDA approved and BPA free and can be used in the fridge or microwave. The only downside is that the cutlery that comes with it feels cheap, which is probably why he sells it relatively cheap. We may consider buying some good quality cutlery on our own later to replace it.
4. Jaxx FitPak Meal Prep Lunch Bag
The jaxx fitpack is a much smaller bag than the others, but it still holds a lot of stuff. It can hold up to 6 containers and has a side pocket for bottles or cups.

The purpose of this bag is very simple compared to some of the other brands - it's for lunch. It may not be able to hold too many snacks or other products, but it is designed to hold a family lunch without any problems.

The mesh behind the front flap of this bag can be used to hold other food items, but it won't hold much, so you can put in some emergency medication. The bag also comes with a small box that you can use to hold small items that can easily fall out, such as air pods.
5. LAVINGTON Insulated Cooler Bag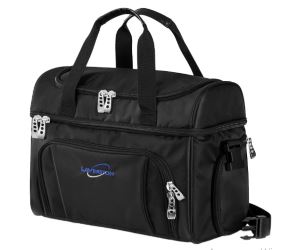 The Lavington bag has an excellent reputation in all areas, starting with the strength of its handles and its ability to keep food warm.

Lavington started out as a food insulator for the airline industry, but thanks to its performance, it soon became available to the mass market.

Although this brand is not as famous as other big brands, but in terms of practicality is really not inferior to the aforementioned big brands of meat perp lunch bag.

The main reason why his bags are so good at keeping food warm is that they are made from top quality polyester and have a food grade quality lining and multiple layers of insulation to keep food warm or cold.

In addition to the excellent food insulation, his zip work is also fantastic. Because his zip design will seal tightly all around, it is impossible for food to fall out of the bag.

Compared to the Jaxx fitpack, this bag has a very large interior. The different bags can meet the storage needs of a family and are a great option for family camping.
Buying Advice on Meal Prep Lunch Bag
Although there are very many different brands of Meal Prep Lunch bag on the market, it is very important to choose the one that suits you. Here are some buying suggestions that you can follow to choose the right product for you.
How many people in your family?
If you are 3 people per trip, and do not consider having a second child, then you just buy a relatively small lunch bag can be, after all, the larger the bag will be heavier, and not as convenient to carry.
The function of the meal prep lunch bag
This is an important factor in choosing to buy different brands of meat prep lunch bag. Each family has different requirements for lunch, some people like to bring more different products such as snacks, so they need a larger size bag, and need to have different functional bags to meet their different needs. If your family is relatively simple and the number of people is not too large, then the jaxx fitpack will be a little more suitable. Families are large and need more features. Then the EDG and ISO brands will be more suitable for some.
Pricing & How often your family go out for camping
The price difference between different brands is very large, if your family often go out, then you should invest in a more expensive and better quality bags. If your family does not go out often, then you can choose to buy a cheaper one, such as prep naturals bags are more affordable.
Leave a comment